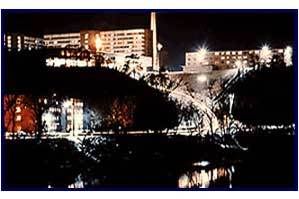 On campus, we have something we call the hill. The picture above may or may not be OUR hill, but it gives you a pretty good idea of the sort of hill I'm talking about. I've wondered about trying the hill. It's intimidating. Scary. Steep enough that students talk about it in epic terms.
I've been having a little wrist soreness from riding my new bike, and have tried out a couple different ways of alleviating that, because I depend a LOT on being able to write and type and such, and I'm not willing to risk hurting them for real.
After reading up on a website for women bikers, I've been trying to hold my arms and hands more relaxed, not using a death grip on the handlebars. And I've been trying to keep the wrist aligned straight, and changed the tilt on the bars. (I tend to ride "in the drops"--that is, on the bent down part of the road bike handlebar.) If you look at real riders, they have their elbows bent fairly deeply, but I don't. I have to work at bending my arms and keeping them relaxed, rather than leaning on my hands. (And that also means more core strengthening, which I'm working on, slowly!)
One of the suggestions I read about was to measure my shoulder width and my handlebar width, because wide handlebars tend to make you angle your wrists. I measured, and compared my new bike handlebars with the old bike handlebars, and they were about an inch and a half wider. An inch and a half is more than you might think when you're thinking bike fit, when the width of the handlebar is 13 or 14 inches or so.
I dropped by the bike shop the other day to ask about narrower handlebars, and they happened to have a pair of handlebars that were basically on par with the ones on my new bike, but from an even smaller women's frame, and thus narrower. I asked them to change them out for me, in hopes that this will help my wrists.
I picked up my bike this afternoon, and went for a quickish 15 mile ride out on the trail, to get a sense of how my wrists would feel. I could feel a real difference, and could ride on the hoods more comfortably, even. I felt that I could move my hands around more (thus changing the ways the wrists bear weight and such), and that seemed good.
Then I met up with a couple friends for a relaxed ride. We went on a dirt road behind campus for a while, a lovely ride that took us under the local Bald Eagle nest, where we saw and heard one of the fledglings way up near the nest! Way cool!
We approached the bottom of the hill, and I couldn't resist. My friends held up, and I stood up and started peddling my legs off. Then I sat down and kept peddling.
A campus cop car passed me, giving me lots of room, but I couldn't look up to see what the driver was looking like. I can imagine some possibilities, though!
And I made it! Yep, I just kept peddling, even though I was barely moving the bike forward in my granny gears, and then I was at the top, legs not quite believing what I'd done, panting like a fool, but at the top!
We did 17 miles, easy and relaxed, but my legs weren't convinced about the easy part after the hill.
I'm feeling stupid happy about making it up the hill. It's silly, because compared to what real riders do, that hill's nothing. But for me, it was psychically huge, and I'm amazed that I made it up there. My wrists are as happy as the rest of me.